Who are we?
Where did we come from?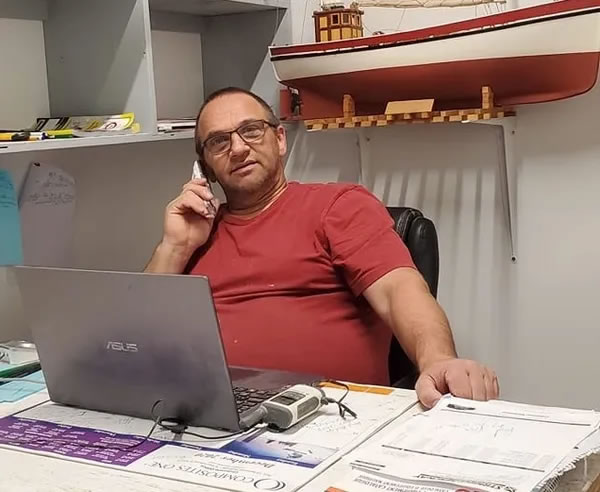 Cape Island Cruisers Ltd. was founded in the fall of 2020 by boatbuilder Scott Dagley, owner of Dagley's Boatworks, East Lahave, Nova Scotia. Scott has been building boats for over 40 years. After graduating from Nova Scotia Community College's boatbuilding course in 1984 he worked for Covey Island Boatworks for 9 years before setting out on his own. Scott has built boats of all sizes and types and Dagley's has built a reputation for solid boats of very good value.
Cape Sable co-designer John Steele brings the company his years of live-aboard cruising combined with a career of building custom cruising yachts. The founder of custom yacht builder Covey Island Boatworks, he oversaw the construction of dozens of power and motor cruisers as well as commercial vessels. A blue water sailer and marine surveyor, John also provides CiC with marketing and sales experience.
Seeing the increasing interest in cruising the beautiful coasts of Nova Scotia, Scott and John Steele, former head of Covey Island Boatworks, searched for a suitable hull on which to develop a new, limited production boat based on a time tested & well proven concept.
The Cape Sable design is the result.
It is based on Nova Scotia's famous 'Cape Islander' hull concept, one of the most successful commercial fishing hulls ever .
Thousands of Cape Islanders work the rugged coasts of the Maritimes and New England year round – and have for decades. Fishing and lobstering on the often dangerous North Atlantic. This hull form has evolved into what is arguably one of the most seaworthy, safe and practical boats on the water – anywhere.Creating the new Cape Sable, an efficient cruiser based on this well-proven hull was a natural !
The Cape Sable is built by Cape Island Cruisers Ltd's sister company, Dagley's Boatworks. Dagley's years of experience building durable working vessels perfectly suits the Cape Sable's clean straightforward styling. Many of Dagley's boats are out working on those Atlantic waters alongside the reliable Cape Islanders and have been for over 25 years.